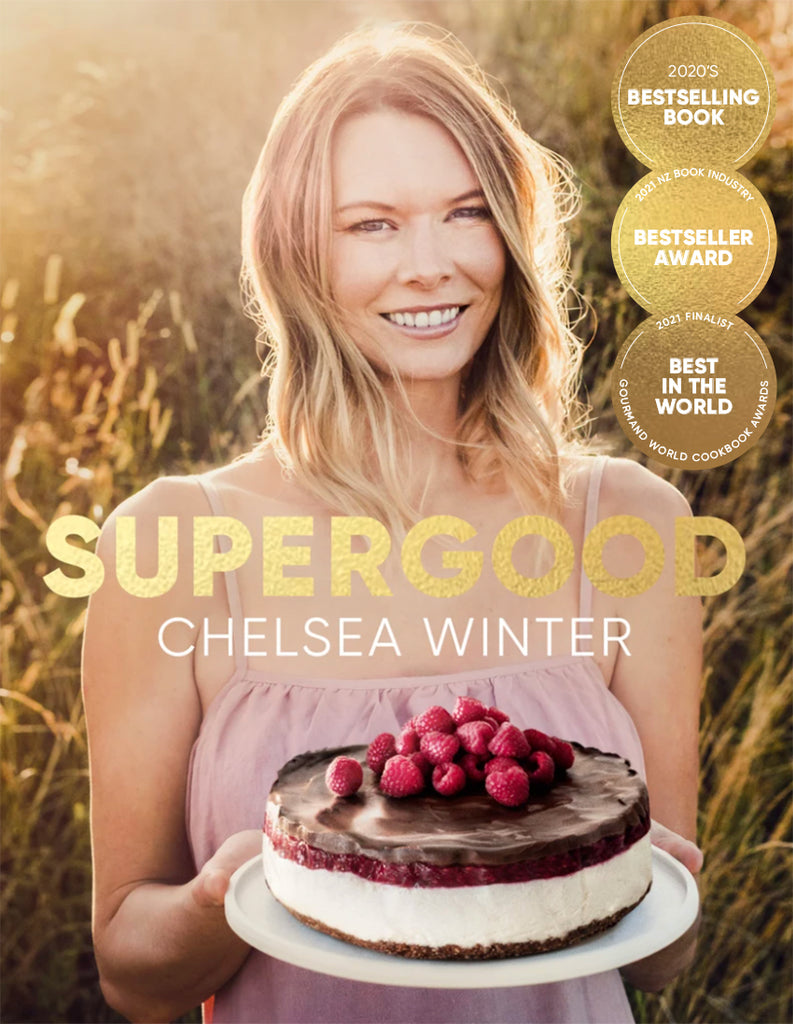 SUPERGOOD
2020's BESTSELLING BOOK

Epic plant-based comfort food for everyone (with gluten-free options for nearly everything).
This amazing plant-based book is adored by carnivores, veggos, vegans and fussy eaters alike so if you've got some major FOMO, it's time to join the revolution!

Signed & personalised

I'll sign each and every copy of Supergood I send your way. If you'd like me to dedicate the book with a name, select the personalised option from the dropdown box above.

Overseas?

I totally ship overseas! Yaaaaay!

Why you need this book

Before you question my plant-based vibe, I've concocted a handy questionnaire. Just ask yourself:

Do you cook for anyone who can't (or won't) eat dairy, meat or eggs?
Do cook for someone who can't tolerate gluten?
Does the idea of a whole section dedicated to gluten, dairy and egg-free baking excite you?
Are you curious to try out a few plant-based meals, but don't know where to start?
Do you want foolproof recipes that are hearty, tasty and family-friendly (not just salads and roasted kale)?
Are the people you cook for fussy eaters (or skeptical of meat-free dinners)?

Do you freak out at the thought of having to prepare food for the vegans and vegetarians in your life?

Have you seen The Game Changers?
Have you enjoyed the recipes in my previous books?
Do you trust your old mate Chelsea to always deliver epic delicious food everyone will love?
If you said yes EVEN ONCE, you straight up need this book in your life. It's the book that makes plant-based eating awesome! I'm in love with Supergood, and I know you will be too. It's my best book yet.


Supergoodness

Did you like my world-famous Lockdown Loaf, Ten Second Aïoli and Macho Nachos? Those were just the beginning....

First off there's a massive section full of dinners, light meals and snacks. Super tasty spaghetti bolognese, creamy pasta, snausage rolls, macaroni cheese, lush Thai green curry, fireside cottage pie, French onion soup, pulled BBQ 'pork' burgers with onion rings, oozy quesadillas, crispy sweet & sour cauliflower, (m)eatloaf, pizza, TWO types of lasagne, ramen, Sunday roast pie, pumpkin & chickpea curry, Pad Thai, golden tortilla bake, hot dogs, summer rolls with peanut dipping sauce, festive stuffed mushrooms, cheesy tomato tart and some hearty salads that are meals in themselves.

THEN there's a baking and desserts section and that's something special because as well as some sumptuous new recipes, I've also taken some beloved classics and made them gluten, dairy and egg-free. Ginger slice, caramel slice (not a date in sight!), chocolate ice cream, banoffie pie, Oreo ice cream cake, chocolate chip cookies, fudge brownies, peanut truffles, chocolate mousse, cupcakes, fudge, gelato, doughnuts, hotcakes. There's also the ultimate Vanilla Celebration Cake - my favourite recipe in the book. It's going to be your absolute saviour for allergy-safe birthday parties.

You'll also love the delightful section with all sorts of everyday staples like herby pesto, the BEST gluten-free muesli, hummus, fresh juices, smoothies, homemade crackers, plant-based butter, creamy feta - you get the gist.

Delivery info

A signature is required for delivery, so please give me an address where someone will be home - or you'll receive a 'card to call', which can end up being a little frustrating for you when all you want is your new book!